Category:

Seller: Baburin
(Click to view profile)

Number of Bids: 3


Current Price: 18.15
SOLD

Time Zone: Greenwich Mean Time

Current Time: Tue Feb 19 10:33:04 2019

Time Left: auction closed

Click here to mail this auction to a friend.
Description: Lot 69. The Rice Gambit, edited by Dr. Em. Lasker. Fifth edition, Press of Dr. Emanuel Lasker, New York, 1910. L/N 1872. Limp covers. 43 pages. Poul Hage ex libris to the free endpaper, fine condition.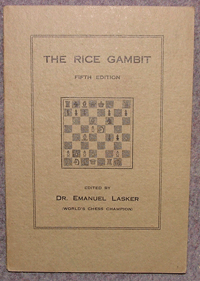 Bid Now
Proxy Bid
BIDDING IS NOW CLOSED









Bid History
Member
Date
Bid
Thomas
Sat Apr 1 15:47:07 2006
18.15
marochess
Sat Apr 1 15:36:29 2006
16.50
philidor
Sat Apr 1 14:48:42 2006
15.00
© Grandmaster Square Auction, 2001. All Rights Reserved.
Auction Software TechSupport Team