| | |
| --- | --- |
| Lot 32. Ben-Oni, by A. Reinganum | |
Category:

Seller: Baburin
(Click to view profile)

Number of Bids: 3


Current Price: 950.00
SOLD

Time Zone: Greenwich Mean Time

Current Time: Sun Jan 20 17:40:38 2019

Time Left: auction closed

Click here to mail this auction to a friend.
Description: Lot 32. Ben-Oni oder die vertheidigungen gegen die gambit züge im schache, nach bestimmten arten klassisiert, A. Reinganum, Frankfurt am Main, 1825. XVII + 176 pages. L/N 1788. Paperboards, spine slightly chipped, corners bumped, otherwise very good. This is fine copy with a wonderful pedigree from the Rimington Wilson Collection with a note by him on its provenance from James Wood's library and on his death it went to Frederick Madden's library. With numerous notes in the bibliographic section of Dr. Höck, by Sir F. Madden.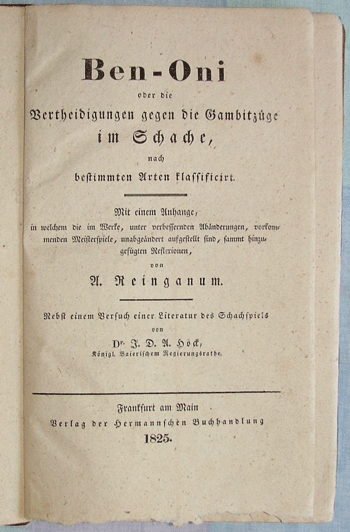 Bid Now
Proxy Bid
BIDDING IS NOW CLOSED









Bid History
Member
Date
Bid
-
(afayard adjusted proxy bid)
-
afayard
Sat May 22 11:56:10 2010
950.00
Offerman
Sat May 22 11:19:21 2010
600.00
© Grandmaster Square Auction, 2001. All Rights Reserved.
Auction Software TechSupport Team