| | |
| --- | --- |
| Lot 25. Book signed by GM Kholmov | |
Category:

Seller: Baburin
(Click to view profile)

Number of Bids: 2


Current Price: 22.00
(reserve not yet met)

Time Zone: Greenwich Mean Time

Current Time: Wed Nov 29 18:39:11 2023

Time Left: auction closed

Click here to mail this auction to a friend.
Description: Lot 25. 'Ratmir Kholmov. Selected Games', Moscow, 1982. 144 pages. 63 annotated games, photos and indices. Paperback. Condition good. There is a dedication on the title-page from GM Kholmov to G. F. Kuznetsov. Kholmov was one of the best Russian GMs, but in his prime he did not get many chances to play in the West. His win against Fischer (Havana, 1965) is one of his best-known games. He died in early 2006, aged 80.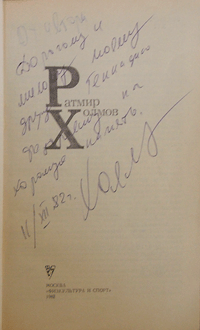 Bid Now
Proxy Bid
BIDDING IS NOW CLOSED









Bid History
Member
Date
Bid
Jurgen.Stigter
Sat Apr 1 18:16:27 2006
22.00
COLLE
Sat Apr 1 17:00:52 2006
20.00
© Grandmaster Square Auction, 2001. All Rights Reserved.
Auction Software TechSupport Team