All Active Auctions (0)


Sold (110)


Closed (45)

Active Auctions:


Autographed Books (0)


Chess Clocks (0)


Chess Composition (0)


Chess Periodicals (0)


Chess memorabilia (0)


Draughts and Checkers (0)


Encyclopaedias and References (0)


Endgame Books (0)


Game Collections Biographies (0)


History of Chess (0)


Miscellaneous and Mixed (0)


Opening Books (0)


Rare Books (0)


Strategy and General (0)


Tournament books (0)



About GS-Auction
Bidding Explained
Current Catalogue


| | |
| --- | --- |
| Lot 90. Fischer-Spassky 72 mementos | |
Category:

Seller: Baburin
(Click to view profile)

Number of Bids: 3


Current Price: 699.84
(reserve not yet met)

Time Zone: Greenwich Mean Time

Current Time: Sun Jan 20 17:23:07 2019

Time Left: auction closed

Click here to mail this auction to a friend.
Description: Lot 90. Mementos of Fischer vs. Spassky, Reykjavik 1972. A very unique set of three envelopes commemorating the World Championship Match 1972. Two matching envelopes have caricatures of Robert Fischer and Boris Spassky respectively. They were issued by the organising authorities and are affixed with commemorative first day of issue postage stamps especially commissioned. The stamps are also franked first day of issue. The third envelope is from the match arbiter Grandmaster Lothar Schmid addressed to his son and also with first day of issue stamps franked accordingly. Each item is signed with the signatures of Robert Fischer, Boris Spassky and Lother Schmid respectively. A letter of authentication referring to all three items from Lother Schmid is provided.With the signatures of the world champion, Spassky, and his challenger, Fischer, the world champion-to-be, along with the signature of the match arbiter this is undoubtedly one of the most unique of all world championship mementoes. All are in fine condition.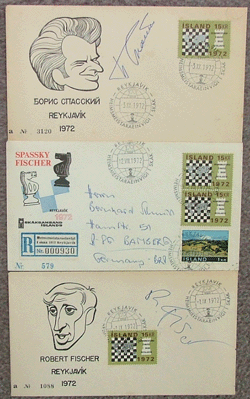 Bid Now
Proxy Bid
BIDDING IS NOW CLOSED









Bid History
Member
Date
Bid
Heine
Sat Apr 1 19:42:04 2006
699.84
DrJon
Sat Apr 1 19:41:21 2006
648.00
Heine
Sat Apr 1 19:18:41 2006
600.00
© Grandmaster Square Auction, 2001. All Rights Reserved.
Auction Software TechSupport Team