| | |
| --- | --- |
| Lot 68. Chess Player's Compendium | |
Category:

Seller: Baburin
(Click to view profile)

Number of Bids: 1


Current Price: 50.00
(reserve not yet met)

Time Zone: Greenwich Mean Time

Current Time: Wed Nov 29 18:41:52 2023

Time Left: auction closed

Click here to mail this auction to a friend.
Description: Lot 68. The Chess Player's Compendium. A Practical Guide to the Openings by William Cook. (Bristol, 1902). L/N 1880. Subscribers copy. Bound in read cloth with gilt spine. Covers slightly soiled, sign to free endpaper, otherwise fine condition. With A Supplement to Cook's Chess Player's Compendium, by Alfred Emery, 1910. L/N 1261. The latter is in very good condition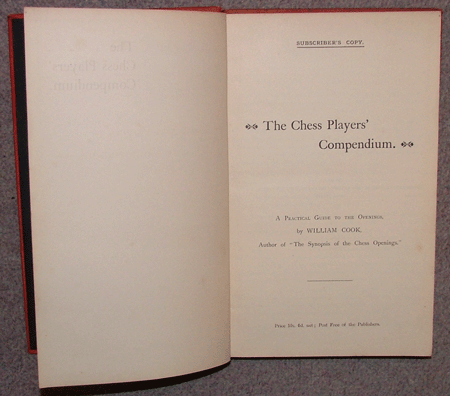 Bid Now
Proxy Bid
BIDDING IS NOW CLOSED









Bid History
Member
Date
Bid
Jurgen.Stigter
Sat Apr 1 18:56:22 2006
50.00
© Grandmaster Square Auction, 2001. All Rights Reserved.
Auction Software TechSupport Team