All Active Auctions (0)


Sold (110)


Closed (45)

Active Auctions:


Autographed Books (0)


Chess Clocks (0)


Chess Composition (0)


Chess Periodicals (0)


Chess memorabilia (0)


Draughts and Checkers (0)


Encyclopaedias and References (0)


Endgame Books (0)


Game Collections Biographies (0)


History of Chess (0)


Miscellaneous and Mixed (0)


Opening Books (0)


Rare Books (0)


Strategy and General (0)


Tournament books (0)



About GS-Auction
Bidding Explained
Current Catalogue


| | |
| --- | --- |
| Lot 49. The Chess-Players Companion | |
Category:

Seller: Baburin
(Click to view profile)

Number of Bids: no bids yet


Current Price: 25.00


Time Zone: Greenwich Mean Time

Current Time: Wed Nov 29 17:40:15 2023

Time Left: auction closed

Click here to mail this auction to a friend.
Description: Lot 49. The Chess-Players Companion comprising A new Treatise On Odds and A Collection Of Games (includes match games with Mons. St. Amant) by Howard Staunton, Esq. London 1879. L/N 782. Half-bound in leather with marbled boards. Spine is rubbed, worn and chipped, the back cover (with a few pages) is detached. Pencil sign to some pages, page 33/34 is loose, otherwise condition is good.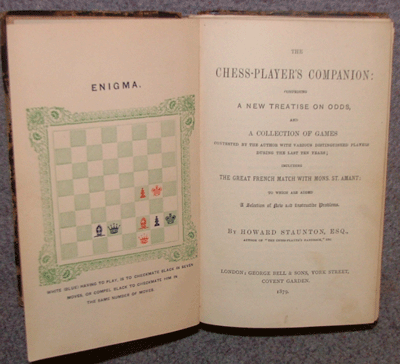 Bid Now
Proxy Bid
BIDDING IS NOW CLOSED









Bid History
Member
Date
Bid
No Bids Yet
© Grandmaster Square Auction, 2001. All Rights Reserved.
Auction Software TechSupport Team