All Active Auctions (0)


Sold (110)


Closed (45)

Active Auctions:


Autographed Books (0)


Chess Clocks (0)


Chess Composition (0)


Chess Periodicals (0)


Chess memorabilia (0)


Draughts and Checkers (0)


Encyclopaedias and References (0)


Endgame Books (0)


Game Collections Biographies (0)


History of Chess (0)


Miscellaneous and Mixed (0)


Opening Books (0)


Rare Books (0)


Strategy and General (0)


Tournament books (0)



About GS-Auction
Bidding Explained
Current Catalogue


| | |
| --- | --- |
| Lot 50. The Chess-Player's Manual | |
Category:

Seller: Baburin
(Click to view profile)

Number of Bids: no bids yet


Current Price: 45.00


Time Zone: Greenwich Mean Time

Current Time: Mon Feb 18 08:40:05 2019

Time Left: auction closed

Click here to mail this auction to a friend.
Description: Lot 50. The Chess-Player's Manual, by G. H. D. Gossip, containing The Laws of the Game according to the revised code laid down by the British Chess Association in 1862. Revised and edited and with an American appendix by S. Lipschütz. Philadelphia. Copyright 1888. The first American edition. L/N 970. In original green cloth binding, with gilt spine and attractively embossed upper cover. Spine is bumped top and bottom, corners bumped, very clean and crisp throughout. Very good condition.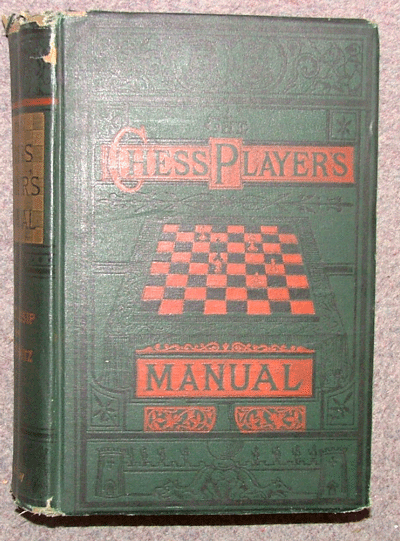 Bid Now
Proxy Bid
BIDDING IS NOW CLOSED









Bid History
Member
Date
Bid
No Bids Yet
© Grandmaster Square Auction, 2001. All Rights Reserved.
Auction Software TechSupport Team