All Active Auctions (0)


Sold (110)


Closed (45)

Active Auctions:


Autographed Books (0)


Chess Clocks (0)


Chess Composition (0)


Chess Periodicals (0)


Chess memorabilia (0)


Draughts and Checkers (0)


Encyclopaedias and References (0)


Endgame Books (0)


Game Collections Biographies (0)


History of Chess (0)


Miscellaneous and Mixed (0)


Opening Books (0)


Rare Books (0)


Strategy and General (0)


Tournament books (0)



About GS-Auction
Bidding Explained
Current Catalogue


| | |
| --- | --- |
| Lot 53. Euwe Kurs shakhmatnikh lekt | |
Category:

Seller: Baburin
(Click to view profile)

Number of Bids: no bids yet


Current Price: 10.00


Time Zone: Greenwich Mean Time

Current Time: Wed Nov 29 18:53:40 2023

Time Left: auction closed

Click here to mail this auction to a friend.
Description: Lot 53. M. Euwe 'Kurs shakhmatnikh lektsiy' (Course of chess lectures). Moscow- Leningrad, FiT, 1930. 2nd edition. 164 pages. S.-264. L/N 1199. Translation of the 4th Part of the book "Practische Schaaklessen". The first 6 lectures introduce games of Greko, Philidor, Anderssen, Morphy and Steinitz (there are 23 games altogether. Lectures 7-11 deal with various problems of middlegame and endgame. List of illustrative games and endings. In original paper covers, which are worn, spine chipped, stamps to the title-page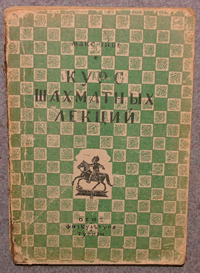 Bid Now
Proxy Bid
BIDDING IS NOW CLOSED









Bid History
Member
Date
Bid
No Bids Yet
© Grandmaster Square Auction, 2001. All Rights Reserved.
Auction Software TechSupport Team