| | |
| --- | --- |
| Lot 22. Mittelshpil, by Romanovsky | |
Category:

Seller: Baburin
(Click to view profile)

Number of Bids: 1


Current Price: 100.00
SOLD

Time Zone: Greenwich Mean Time

Current Time: Sun Jan 20 18:03:41 2019

Time Left: auction closed

Click here to mail this auction to a friend.
Description: Lot 22. Mittelshpil, by P. A. Romanovsky. (Middlegame) [Leningrad], Shakhmatniy listok, 1929. 223 pages. S.-611. L/N 2123. A manual for advanced players. Part I. - Combination. Part II. - Plan. Bound in cloth, with gilt upper cover. The book is scarce in its own right, but this is a signed copy. The dedication (in Russian) goes: 'This book was the first major opus of then not-so-good author. Prof. A.A. Smirnov came to the rescue – he polished it up splendidly, for which the author remembers his fondly till this day. Romanovsky, 17 April 1961'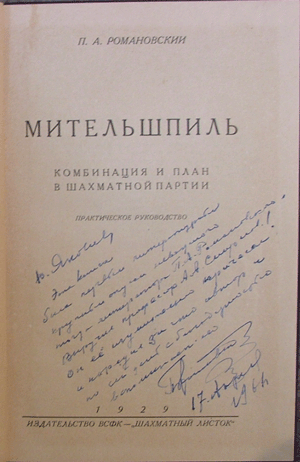 Bid Now
Proxy Bid
BIDDING IS NOW CLOSED









Bid History
Member
Date
Bid
afayard
Fri Mar 31 07:10:51 2006
100.00
© Grandmaster Square Auction, 2001. All Rights Reserved.
Auction Software TechSupport Team