All Active Auctions (0)


Sold (110)


Closed (45)

Active Auctions:


Autographed Books (0)


Chess Clocks (0)


Chess Composition (0)


Chess Periodicals (0)


Chess memorabilia (0)


Draughts and Checkers (0)


Encyclopaedias and References (0)


Endgame Books (0)


Game Collections Biographies (0)


History of Chess (0)


Miscellaneous and Mixed (0)


Opening Books (0)


Rare Books (0)


Strategy and General (0)


Tournament books (0)



About GS-Auction
Bidding Explained
Current Catalogue


| | |
| --- | --- |
| Lot 43. Chesse-Play, Greco | |
Category:

Seller: Baburin
(Click to view profile)

Number of Bids: 6


Current Price: 2,360.00
SOLD

Time Zone: Greenwich Mean Time

Current Time: Tue Feb 19 10:33:28 2019

Time Left: auction closed

Click here to mail this auction to a friend.
Description: Lot 43. Greco, The Royall Game of Chesse-Play. Sometimes the recreation of the late King with many of the nobility. 1656. frontis, [xvi] 120 p [2] errata; some page cropping & a partial loss of typographic border (as always). Later full calf binding, blind stamped and gilt. Very firm throughout. This is a fine and complete copy of a very rare item. Contains all preliminary material. It also has the final leaf 'The Stationer to the Ingenious Chesse-Player'. It is the first of the great chess books to have its first edition in English and one of the five most important early works on chess. It is the first best-game collection, and is the first book to print complete games played over the board. The verb 'castle' first appears here. More information can be found in Murray p 827-839; van der Linde 'Geschichte' I-361/7. This is the first edition. The frontis, an engraved portrait of Charles I. is very interesting. Printed during the time that Cromwell was Lord Protector of England, publication of the King's portrait was considered an act of sedition and very few copies had it included. Beale (the editor) Herringman (publisher} and Stent (engraver} had royalist sympathies and circulated the portrait copies privately. The British Chess Magazine stated in 1974 that only 20 such copies are known to exist. That may not be exactly true but it is certain that the book in this condition and completeness is exceedingly rare.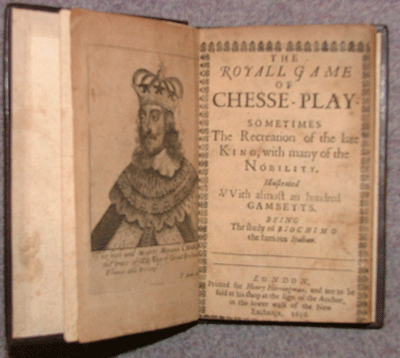 Bid Now
Proxy Bid
BIDDING IS NOW CLOSED









Bid History
Member
Date
Bid
potota
Sat Apr 1 18:28:42 2006
2360.00
-
(elcano92 adjusted proxy bid)
-
elcano92
Sat Apr 1 10:04:36 2006
2000.00
potota
Fri Mar 31 23:56:20 2006
1749.60
-
(ComputoJon placed a bid at 1749.60 euro)
-
potota
Fri Mar 31 23:37:47 2006
1620.00
degrisy
Fri Mar 31 23:24:32 2006
1500.00
© Grandmaster Square Auction, 2001. All Rights Reserved.
Auction Software TechSupport Team