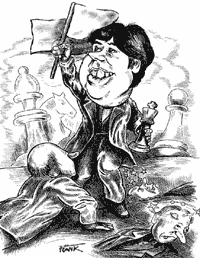 Thanks to Twins I am back in the top Ten
Illustration by Frank Stiefel
Peter Svidler is one of the most original Grandmasters in chess – at the board and besides it. At the end of the century it looked like the three-times Russian champion from St. Petersburg was able to challenge the 'Big Three' (Anand, Kasparov and Kramnik). However, Svidler suffered some setbacks and had to wait three years for his comeback in the top ten of the world rankings. Hartmut Metz talked to the 27-year old world's no. 8, who will play a Chess960 match at the Chess Classic Mainz (13-17 August) vs. Peter Leko of Hungary.
In 1999 you were world's no. 8 with 2713 Elo. After that you lost several ELO-points but in the last months you recovered with a personal record of 2723. Can you tell me what happened?
It took me a while, but it seems that I am finally playing decent chess again. I guess being content with your life outside the chess world helps a lot.
Were there any dramatic changes in your life? Last year your second wife had twins just a few days before the tournament in Mainz and that could have inspired you to win the first Chess960 Open.
I normally prefer not to talk too much about my private life, but I must say, that fatherhood is absolutely fantastic and I love every minute of it (when I'm at home, of course – which the first six months of this year was not very often).
Did Chess960 influence your play? After winning the Chess960 tournament in Mainz last year you started your comeback and eventually came back into the top ten.
I think it would be more appropriate to say, that my comeback started with becoming a Dad.
Can you benefit from Chess960 in a normal chess game?
So far I haven't played enough Chess960 to draw any definite conclusions, but it can certainly help develop intuition and tactical alertness, since you can't rely on knowledge any more and have to improvise in every game.
Do you see any efforts from players to get back to 'normal positions' as soon as possible playing Chess960?
You see a few 'normal' positions in almost every game – but it can be a 'normal' endgame position by that time. My intention in CCM2 was to try to avoid playing symmetrically with Black, because I wanted to have as much fun as possible – but this may explain why on the first day White won all five of my games!
In your opinion, what is the main difference between Chess960 and 'normal' chess?
Some of the opening positions are much better for White, and some are almost equal – so there is a certain amount of luck involved in the position you will get. And the absence of opening theory is an important factor, of course.
You are considered being one of the most original players in the world. Is this one of your big advantages in Chess960?
Let's not overrate my result in last year's CCM. So far I have only done well in one Chess960 event, and it is too early to tell, whether I have any advantages over other players in this chess variant. But I always like to be creative on the board, and Chess960 gives me a lot of opportunities to do so.
Peter Leko beat Michael Adams in the first unofficial Chess960 World Championship Match in Mainz 2001.What do you predict for your match vs. Leko?
I hope it will be a very tight and interesting match. Peter has to be considered the favourite. He is in the form of his life and is also a very creative player, who enjoys new challenges, e.g. he is an experienced Janus Chess player and has even been world champion in that variant. (Note: Janus Chess is a chess variant, played on a 8x10 board, with two additional pieces to widen the possibilities).
Do you have any goals for the next months and years, except getting the new Chess960 world champion? Are you able to break into the top five or three of the rating list?
I never set myself specific goals – especially now, when nobody knows what is going on in the chess world. I want to continue to improve my play - and wait and see where it can get me.
Your new team-mate in Baden-Oos is Alexei Shirov, number 5 in the world. What differences do you see between him, Peter Leko and yourself? Maybe you would like to compare your own playing style and strength to the top three Anand, Kramnik and Kasparov as well.
The main difference is consistency, I guess. I have a decent score against all of them, but I've had more bad periods than they have. I think it is impossible to compare our playing styles, because you can't be a top-10 player without having an universal style. Alexei is considered to be the best attacker of his generation – but in recent years he may have gained more points by being an excellent endgame player. One should not overrate those clichés.
Baden-Oos seemed to have a lack of 'killers' in the team last season, behind the top boards Anand, Krasenkow and yourself, but with Shirov and Vallejo Pons the team seems to be strong enough to challenge Luebeck and Porz. Are there real chances to win the Bundesliga title next year?
We just had one killer last year – our top board Vishy, but we had problems on the lower boards. This year however, with Alexei and Francsico we will have a stronger team overall, and the young guys – Fabian Doettling, Andreas Schenk and others – will be more experienced after the last season. I hope we will do better than last year. Winning the title won't be easy – but if key matches go our way, anything can happen.