Grandmaster Profile: WGM Victoria Cmilyte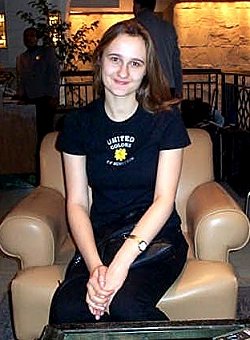 GM Alex Baburin interviews WGM Victoria Cmilyte on the 6th of December in New Delhi. This interview was original published in Chess Today.
Usually chess fans do not know much about young players. If this is true for boys, then it is even truer for girls. We hope to improve this situation and thus we would like to introduce to you a young chess star from Lithuania - meet with Victoria Cmilyte!
Alexander Baburin
Victoria, I think that for most chess players your name is quite new. I first heard it when last year, a 16-year old girl won the Lithuanian Championship among men! Could you tell us how you started in chess?
I am from Shaulyai, which is in the north of the country. I began playing chess at the age of six, when my father taught me. When I was 7, I won Lithuanian Championship among girls.
What happened then?
Then I became European Champion among girls under 10 and after that World Champion among girls under 12. In 1996 I played in Yerevan at the Olympiad for Lithuania on board 3. Two years after in Elista I played already on board 1 on the team.
And this year you won the Lithuanian men's Championship?
It was not such a surprising result to me - I hoped to do well. The tournament went really well for me though. In October I played in Istanbul.
How did you do there?
I scored 91/2 out of 12 and won gold medal on the first board.
Great! So how do you feel about your result here in New Delhi?
I did not set high hopes as I had very little time to prepare. I just came here to see what I can do and try to go as far as possible. But I was already tired after the Olympiad.
You are at the age when people have to make important decisions about their studies and career. What do you plan?
I am finishing school this year and plan to go to university.
So, are you not going to devote all your time to chess?
I would like to become a professional player, but this does not mean that I should not get some other qualification as well.
Nice to see so much common sense! :-) What will you study?
Foreign languages.
What are your plans for the near future?
There are very few strong tournaments for women. Next year I will not play much because of my studies. Probably I will play in the Lithuanian men's Championship again and will also try to qualify for the Women's World Championship.
Victoria, thank you very much for the interview and good luck!
This interview was conducted by Alexander Baburin on the 6th of December in New Delhi and translated to English by the author. Text and photos Copyright GM Alexander Baburin, all rights reserved.