Grandmaster Profile: Alexander Grischuk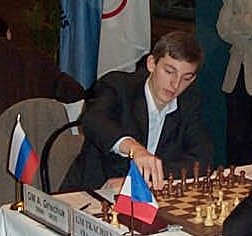 GM Alex Baburin interviews GM Alexander Grischuk on 14 October 2000 on the Faeroes Islands. This interview was original published in Chess Today.
Alexander, I met you name in the chess press only recently - probably at the beginning of this year. Then I started to follow your results and met you for the first time here. Perhaps chess fans are in a similar position, so can we start off by talking about where you were born, where you live, etc.?
I was born in Moscow and live there. I am 16 and for about 10 years I've been playing chess. My first coach was Godlinsky, then I studied with Blokh and for the last 5 years I have been working with IM Anatoly Avramovich Bykhovsky.
What are your best results in tournaments so far?
Winning this tournament (Alexander scored 71/2 out of 9, which was a 2822 rating performance and tied for first with Ruslan Ponomariov) and the Chigorin Memorial - there I also tied for first - and winning in Lausanne (2000).
So, this year is rather successful for you?
Yes, I won two tournaments this year.
Also, this year you started to play in strong events - The New York Open, Reykjavik Open, North Sea Cup in Esbjerg, Denmark and now this tournament. Is this something new for you?
Yes, although I always try to play in strong tournaments.
It seems that your results are going up...
Not always - in my previous tournament (final of the Russia's Cup) I played badly.
Let's talk about your chess studies - which players influenced you most?
Nimzowitsch, Fischer and Karpov.
Did you really study Nimzowitsch's games?
I studied his book - 'My System'. I also looked at games of some famous players (Botvinnik, Gligoric and some others), though not very deeply.
What about modern players - who is your favourite?
Morozevich and Shirov.
So, you like players with an active and somewhat unusual style...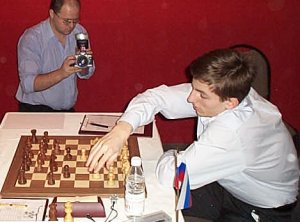 This is how I play too!
What are your plans? How do you see your potential? Are you ambitious?
First I hope to play at the Olympiad in Istanbul and then in the World Championship in India.
How far do you hope to advance there?
I think that there I will play a couple of games (laughs) and then maybe another couple of games! :-)
What do you think of chess as a profession? Will you devote your life to it?
Yes.
Are you not afraid that it's a tough and unpredictable profession?
Any profession is tough and unpredictable in Russia at the moment!
Personally I believe that the situation in professional chess is getting worse. What in your opinion should be done to make it better?
I believe that we need rapid chess and use the same system as in tennis - one match a day, perhaps the whole match should take up to 4 hours.
I hear the same opinion from some other players, like for example, Veselin Topalov and Alexander Morozevich. So, you support it too?
Of course, this is only natural!
Some players are concerned that with a shorter time control the search for 'ultimate truth' in chess will be less efficient. Are you familiar with this point of view?
Yes and actually this point of view surprises me!
What chess magazines do you prefer?
'64' and 'Informant'. I also read 'New in Chess', which is a very good magazine.
The match Kasparov-Kramnik is now on and soon FIDE World Championship will start in India. Who is the World Champion for you?
Khalifman!
What is you attitude towards FIDE? Does FIDE do everything well and or badly or is it somewhere in between?
So far FIDE is on the way up, particularly with organising tournaments - first FIDE started the World Championship and recently it organised the World Cup.
Alexander, thank you for the interview and good luck in Istanbul and new Delhi!
Text and photos Copyright GM Alexander Baburin, all rights reserved.