Grandmaster Golubev Interviews Yasser Seirawan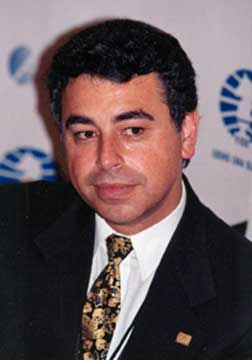 The following interview was conducted via e-mail shortly after the Dutch blitz championship, where both Grandmasters took part. The questions by GM Golubev are in italic.
Dear Yasser, you initiated Chess Unity Plan back in 2002. The biggest recent problem – Ruslan Ponomariov's involvement in the process – seems to be solved now. Are you satisfied with the current standing of the Unity Plan? Do you think whether the chess world has had to pay a certain price for the unification?
Dear Mikhail, It is my pleasure to answer your questions and to try and to bring some satisfaction to your readers. The road to unity in chess has been very difficult, requiring the goodwill of all parties concerned. As expected, problems have hampered the effort, yet I remain hopeful that it will succeed.
First, we should put World Champion Ruslan Ponomariov's position in perspective: on the one hand he is very fortunate that the effort to unify the chess world has occurred 'on his watch'. Without the unity effort, he would face being placed in Round One of the next FIDE World Knock-Out Championship. While he could be expected to win a handsome prize, mathematically, his chance to repeat his performance as World Champion is very slim. Indeed, it is the randomness of the format that I and others have criticized, that paved the way to the new double-elimination format proposed by GM Khalifman in Prague. Being 'forced' to play a World Championship match for a one million dollar prize fund against the World's best-known player, Garry Kasparov, is quite a fortunate happenstance. On the other hand, as World Champion, Ruslan has certain rights. He is putting his title at stake ahead of his expected challenge of a December 2003 Knockout event. If he were to lose the match to Kasparov, he would no longer be World Champion and would lose certain commercial advantages. Ruslan therefore felt quite justified in making certain demands.
I was fearful that the draw-odds and time-control demands would be insurmountable. I was therefore quite relieved to read that Ruslan and FIDE President Kirsan Iljumzhinov were able to meet and overcome these differences. I've also read that this match is to take place in Buenos Aires during a timeframe and for a prize-fund formula suitable for Ruslan. So both parties compromised and I congratulate Ruslan and Kirsan for making their effort. As a chess fan, I look forward to an exciting Ponomariov versus Kasparov match!
Regarding the Kramnik versus Leko, Classical Chess World Championship match, I don't have any information. I've read that two cities are being considered but little else. The Prague Agreement envisioned two World Championship matches in the May 2003 time frame and a unification match in October 2003, completing the first cycle. This would be followed by a Knockout tournament in December 2003 for new challengers to emerge in a second cycle. If the Kramnik - Leko match gets postponed there will be to many practical problems to overcome and the possibility of unity in 2003 will simply slip away.
So, a mixed picture. A lot of time has passed since Prague and I would have liked to have seen much more progress made. Yes, the whole chess world paid a price for uniting the chess world. Whether one likes the FIDE Knockout tournament or not, the format had the huge advantage of confirming a World Champion at its conclusion within a very short period of time. While grandmasters will be able to compete for the FIDE World Championship Title in 2003, the process of Candidate Matches means that 2005 is the earliest date for a grandmaster other than Ponomariov, Kramnik, Kasparov or Leko to be crowned. That is indeed quite a price to pay. Yet at the end of the day, it is absolutely imperative for sponsors, organizers, players and fans that unity is achieved so that chess can grow.
A few days ago world top Grandmasters, including Kramnik and Shirov, published an open letter in TWIC-432, discussing the current situation with the GM Steering Committee. What is your view on that?
It is hard work to build up something over time and create something concrete and positive. Ask Utut Adianto of Indonesia, Eugene Torre of the Philippines, Miguel Quinteros of Argentina or Joel Lautier of France, if you don't believe me. Signing an open letter is easy. Especially, if you didn't even have to write it yourself. Frankly, criticism comes far too easily for chess grandmasters. This is due to the great amount of frustration and disillusionment that is rampant amongst professional chess players. I tried very hard to get grandmasters to agree to serve on the GM Steering Committee. The reality is that there was a ballot, a vote and an election of a GM Steering Committee in Bled. I am very grateful to my colleagues who agreed to serve.
Unfortunately, the very reason for the GM Steering Committee has been put to question. The Prague Agreement envisioned a GM Steering Committee that would help construct the rules of the cycle and represent the players. Indeed there were a lot of discussions about a Players Health & Benefit Fund amongst other promising ideas that the GM Steering Committee would try to develop. In Bled, a FIDE World Chess Championship Committee (WCCC) of three persons, Georgios Makropoulos, Zurab Azmaiparashvili and Israel Gelfer were appointed. So the role of the Steering Committee has been largely usurped. We are not "steering" the cycle at this time.
I challenge any of the writers of the open letter to take my place on GM Steering Committee and to work for positive change. Then with great delight I too can play the role of critic just as unfairly as them. To make changes, small positive steps are required. Let's create a structure where folks can serve, let us create a process where they can be elected and then go ahead and make our sport better for all. 2004 is fast approaching for the Spanish Minorca Olympiad where we will have new elections. I welcome candidates to apply now! Perhaps, our top 200 GMs would even care to vote? At least we can hope.
I should also say, there seems to be a great deal of 'fear' within this open letter. Fear that the members of the GM Steering Committee will leverage their roles and duties for personal gain. Furthermore, there seems to be a concern that somehow there is a 'permanency' to such a structure. Goodness gracious, nothing could be further from the truth! We are not a GMA creating events. We are an advisory body trying to encourage positive change. In the worse case, we make a collective mistake. A terrible possibility to be sure, but hardly a tragedy. Mistakes can be undone! At best, we can 'force' the adoption of such things as Khalifman's double-elimination, agreement about the types of time controls, titles, ratings and other aspects vital to the financial well-being of our top players. Let me be clear: without a GM Steering Committee, or a similar body, we will have nothing at all. Open letters will be a shout for attention and then it will fade away. I should also like to add that I will not be the President or the Chairman of the GM Steering Committee. I've offered to be the Secretary (a most disagreeable post) in order to lessen the workload for others. As soon as we meet and elect ourselves – provided we have a job to perform – an agenda and an open discussion can ensue.
Well at least I'm grateful for their open letter. My colleagues are sharing their concerns and show that they do care about their sport. I dislike the 'silent majority' and much prefer a boisterous crowd!
Do you see any chances to force world top 200 players to complete the poll on professional time control? As I know, you invested a lot of time and energy in this project.
This is a prime example of the disillusionment that exists amongst the top players. I as well as other members of the GM Steering Committee, worked very hard to get the views of our colleagues about the time controls, for example. Many couldn't be bothered to answer. Others answered that their voice wouldn't be heard and that they wouldn't be a party to a 'sham' vote. Yet, the vast majority of the players who deigned to vote DID show their strong support for a Professional or Classical time control. The WCCC in its regulations recommendations, accepted the time control of 40/2, 20/1, Game/15 + 30 Seconds. So this was a great achievement. Yet, the thanks for this success from my colleagues has been remarkably muted. Good deeds go unmentioned. This is not a prescription for creating positive change and encouraging folks to work hard. 'Forcing' players to do something, even something that benefits them and their sport, such as a proper dress code, is sure to provoke the ire of the players. It seems like a no-win situation, which makes me very sad.
During the FIDE Congress in Bled in 2002 some information emerged, claiming that you might take an official position within FIDE. What is the current situation with your involvement in FIDE's work?
For clarity, I have no official position within FIDE. Nor was I offered a FIDE position. The offer was to work on behalf of FIDE Commerce, a for-profit company that has the commercial rights of FIDE, but is an independent entity. FIDE Commerce is undergoing a major restructuring and I have no position within it. Mr. Berik Balgabaev has been performing the duties and responsibilities of FIDE Commerce President for the past few months following Bled. For those unfamiliar with him, he was the chief organizer of the Russia versus the Rest of the World match, which was a wonderful competition that was organized very well. If he is as successful within FIDE Commerce as he was with the Russia versus ROW event, good things can happen!
Recently you were commentator at the Kasparov vs. Deep Junior match in New York. Could you tell us what surprised you more - the ...Bxh2+ sacrifice played by Deep Junior or the result of 12 year old Karjakin vs. Shirov, Karpov, Pilgar and Ponomariov in Benidorm in late 2002?
I must say that working as a commentator during the Kasparov-Junior match was a pleasure. The games were simply great. I enjoyed the first five games immensely and the sixth game was shaping up to be a fascinating battle. The audience was disappointed by the premature peace agreement, as was I. Kasparov was fighting the ghosts of computers past as well as his own form. Objectively, Kasparov should have won this match by a convincing score, but as all chess players know, the hardest thing to do is win a won position and his slips in games two and three haunted him. I must also mention that my co-host, GM Maurice Ashley was terrific and the star of our commentary team. Erudite and witty, Maurice made the whole experience a lot of fun! In short, the match occupied my attention. I found Junior's Bxh2+ sacrifice astonishing - a tremendous breakthrough in computer programming. When one thinks about computers as routinely defeating the very best players in the world, I envision such types of chess where the human player is overwhelmed by the calculative requirement of combinative sacrifices. The advances in computer chess is exciting to behold.
On 15th of February I witnessed your victory, shared with Ivan Sokolov and Jan Timman, in the Dutch Open Blitz Championship. What are current ambitions of Yasser Seirawan as a player? Do you plan to play in World Chess championships?
For a few years I have been thinking of joining the exodus of grandmasters, leaving the sport. After selling Inside Chess magazine to the Chess Cafe website in September 2001, I was well on my way to an early retirement. I wanted to give a parting gift to the chess world as thanks for all the wonderful things that chess has given me. I could think of no finer thanks than to try and help unify the chess world. If I could stimulate that process, I could then give a kind and graceful wave goodbye. At the time, I had the feeling of being a champion of lost causes. I was greatly uplifted by Bessel Kok, Erik Anderson and Dato Tan Chin Nam in the whole process and if not for their encouragement I wouldn't have initiated the effort. I was happily relieved as others stepped forward playing constructive roles. A key figure, FIDE President Kirsan Iljumzhinov, seized the opportunity and embraced it. At certain times, he could easily have been derailed and given up. But he persevered and made a huge difference in crafting an agreement.
My exit was delayed as the process took a lot longer then I had expected! A lot more effort as well. More or less after Bled, I realized that I had nursed the process as far as I could. I had an obligation to America' s Foundation For Chess (AFFC) to compete in the US Championships in January and to my Hilversum Dutch League Chess Club. Once the Dutch League is finished in May 2003, then I can withdraw myself satisfied that I've done my best. I will certainly follow events in the chess world and lend a supporting hand where I'm able. Unfortunately, I have to be realistic about chess. Sponsors have been disappearing for years and I see this decline as continuing. If unification succeeds then chess has every reasonable expectation of growing and I may yet reverse my intended course.