Book Reviews by Sam Collins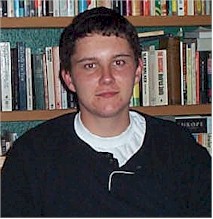 Finding myself, gentle reader, on holiday in Linares (my current pathetic 2.5/5 in the Open forbids me from saying that my purpose here relates to the actual playing of chess), I'm taking great pleasure in using my CT press badge to sneak into the press centre, grab a complimentary decaf and watch Kasparov, Kramnik, Anand and other giants bashing each other on the monitors. It makes me feel like a true amateur (see my first five rounds on TWIC for practical examples) and a chess fan. Fortunate, then, that alongside my toothbrush I found Heroic Tales: The Best of ChessCafe.com 1996-2001 (Russell Enterprises Inc., 431 pages, R.R.P. $24.95) stuffed in the bottom of my suitcase.
Anyone unfamiliar with Chess Cafe is advised to take a peek. This website features a large collection of entertaining, instructive and free (a point I'll return to later) material from a wide range of sources, from chess bad-boy Tim Harding to mega-trainer Mark Dvoretsky (indeed, even our beloved editor wrote there for a spell). All things considered, it's a great site.
This book, as described in the non-sexy part of the title, is a collection of the best stuff from the Café during the past five years. It is divided into sections entitled 'In the Arena' (vignettes depicting top-level chess), 'Instruction' (from Harding analysis of dodgy gambits to Dvoretsky and Muller on opposite coloured bishops), 'Q&A' (club players' chess questions answered), 'Humour' (Tony Miles and an Aussie), 'History' (essays on a feast of tournaments and players), 'Reviews' (of books), 'Chess in Flux' (things like faster time controls and quick draw fines), 'Politics' (well…) and 'Sui Generis' (I would tell you, but I don't want to spoil the surprise).
While there is quite obviously a bit of everything, this book primarily aims to entertain. Thus, if you're looking for something to push you over the 1750 mark and only have $25 to your name, buy something else. However, I think it's generally a good idea to flesh out one's chess library with something a little lighter, if only to rekindle one's chess interest between Poisoned Pawn sub-variations. And a lot of the material in this book really is top quality. Dvoretsky, for some reason, always hits the mark; Miles is as funny as he was throughout his tragically brief career (indeed, his account in India of the lack of chess clocks for the Commonwealth Championship was particularly resonant, for the simple reason that exactly the same thing happened at the most recent World Junior in Goa, with organisers shrugging it off with such legendary lines as "Why would it be a problem to play with two different time controls in the same tournament?" and "No, FIDE won't object; after all, its Vice-President is on the organising committee"); and Genna Sosonsko's portrait of Euwe is the best chess essay I've ever read. Of course, there's some stuff I wasn't too keen on; I don't want to annoy anyone by naming names, but suffice it to say that another couple of Dvoretsky endings (or even a Baburin book review) would have been preferable to a few of the pieces featured here.
That's no great loss, I suppose, since all the material featured at ChessCafe is archived at the site. Yes, that includes the material in this book. So why buy it? Well, to have most of the good stuff neatly compiled in an attractively produced book. I have no doubt that some people will buy this book, and presumably they'll be motivated by something like the above. However, when a book is as easy to write (because there's nothing to write) as this one, I feel it puts a double onus on the editor to make sure the edition is, well, perfect. And this hasn't happened. I'm not familiar with Mr. Taylor Kingston, who edited the book, but in addition to praising him for his largely excellent choice of material I would have to chastise him for not proofreading it thoroughly enough. For instance, the Harding article on the Urusov Gambit (this is why I class him as a chess bad-boy; if I played half of Tim's suggested lines [frequently backed up by a game between two unknown correspondence players in 1937, always ending in mate in under 10 moves], I don't think I'd ever get out of the opening with a semi-reasonable number of pawns) has several rather major errors (muddling variations, suggesting Qxh6 when there's a black rook on h8 and so on) which should have been eliminated.
This notwithstanding, I think Chess Cafe does excellent work and I'm glad to see they stand to benefit from it by the publication of this tome. If you can't be bothered to go online every time you want to read about Tal or Lasker, this book is a very nice read. Check out the website for sure, but as light chess related bedside reading goes (if that's your thing), this really is rather good.
MY ASSESSMENT: * * * *
Other reviews by Sam Collins
Review 1: Play the Open Games as Black, by John Emms
Review 2: The Human Comedy of Chess: A Grandmaster's Chronicles by GM Hans Ree & Storming the Barricades by GM Larry Christiansen
Review 3: Open Ruy Lopez by Glenn Flear
Review 4: Main Line Caro-Kann by Neil McDonald
Review 5: Offbeat Spanish by Glenn Flear
Review 6: Excelling at Chess by Jacob Aagard
Review 7: Can You Be a Positional Chess Genius? by Angus Dunnington
Review 8: The Grunfeld Defence by Nigel Davies
Review 9: The Best of Chess Cafe
Review 10: How To Build Your Chess Opening Repertoire by Steve Giddins
Review 11: The …a6 Slav by Glenn Flear
Review 12: Starting Out: The Ruy Lopez by John Shaw
Review 13: Knockout Nimzo (video) by Tony Kosten
Review 14: My Great Predecessors by Gary Kasparov