Daily report by GM Alexander Baburin from Turkey
Day Twelve, 8th November 2000. 11th round of the Olympiad saw some hard-fought matches. On the top tables the most popular score today was 21/2-11/2. With this score Russia defeated Urkaine, Bulgaria beat, Hungary outplayed Armenia 21/2-11/2 and USA won against Philippines 21/2-11/2. In the match Bosnia-Israel all games were drawn.
So, with 3 rounds to go the standing is as follows:
1 Russia - 301/2 points
2 Germany - 29 points
3 Ukraine - 281/2 points
4-6 Bulgaria, Hungary and Armenia - 28 points
7-8 USA and Netherlands - 27 points
The Irish men's team played against Croatia, which was a bit unfortunate, as we were only on +2 and Croatia is a very powerful team. I played Black against GM Zdenko Kozul (2616). He is a very strong player and is particularly good with White, so before the game I sensed that it would be a serious test for my Queen's Gambit Accepted. Indeed, I was in trouble in the opening, but both of us played rather badly and fortunately (for me!) my opponent committed more chess sins in the game than I did. Here is end of that game.
Zdenko Kozul (2616) - Alexander Baburin (2590)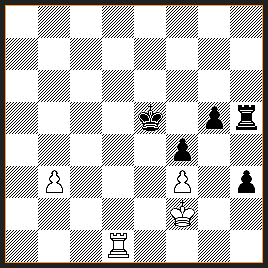 Position after 60 Rd1.
Here I had about 3 minutes to make the control move. I was going to play 60...h2 and if 61 Kg2, then 61... g4!, winning. Then I saw a ghost - the line 61 Rh1! Kd4 62 Kg2 Kc3?? 63 Rxh2 Rxh2+ 64 Kxh2 Kxb3 65 Kh3=. Of course, much better is 62...Ke3!, although the win is still not trivial. Yet, Black should succeed after 63 b4 Rh4! 64 b5 g4! 65 fxg4 Rxg4+ 66 Kh3 Rg6, as his pawns are well advanced, while the enemy pieces are badly placed. Anyway, seeing the crazy line with 62...Kc3?? I got a bit nervous and decided to play a less committal move:
60...Rh6? This is not bad, but even stronger was 60...Rh8!, so the rook would further away from White's pawn, when Black plays ...g4 and White gets the g-pawn.
61 Kg1 White could not play 61 b4 because of 61...Ra6. 61...h2+ 62 Kg2??
White had to play 62 Kh1. Then 62...Rh3? does not work - 63 Kg2 Rg3+ 64 Kf2! g4 65 fxg4 Rxb3 and here White has some chances. The point is that after 63 Kg2 Black cannot use his main tactical idea - 63...g4?? 64 fxg4, as there Black's rook is hanging! Black thus has to play 62...Rh8!. Then 63 Rd2 allows 63...Rh3, so White should push the b-pawn: 63 b4. The following line is quite curious: 63...g4 64 fxg4 f3 65 b5 Kf4 66 b6 Kg3 67 b7 Re8 68 Rc1 f2 69 Rc3+ Kxg4 70 Rc4+ Kf3 71 Rc3+ Ke2 72 Rc2+ Ke3 73 Rc1 Kd2 74 Ra1 Re1+ 75 Kxh2 f1Q 76 Rxe1 Qf4+, winning or 76 b8Q Re2+ 77 Kg3 Rg2+ 78 Kh3 Qf3+ 79 Kh4 Qg4#.
In the game Black's task was much easier: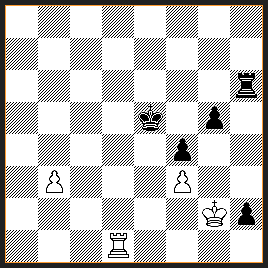 62...g4! 63 fxg4 h1Q+ As after 64 Rxh1 Black has 64...f3+ 65 Kg1 f2+ 66 Kg2 Rxh1, White resigned. 0—1
Unfortunately, we lost on all other boards in the match, so we are on only 50% after 11 rounds. Our ladies' team had a bad day too, losing 1/2-21/2 to the United Arab Emirates. We have to console ourselves with that there is life after chess! :-)
More to follow - stay tuned!