Daily report by GM Alexander Baburin from Turkey
Day Five, 1st November 2000. In round 5 Germany beat Israel 3-1 and became a sole leader. That result was surprising, as Israel looks like a stronger team. However, in team events ratings do not mean that much. Germany is playing really well here, particularly on boards 3 and 4, where they score heavily. Russia had a good result too, beating Brazil 3¸-¸. Tomorrow Russia will meet Germany. Another surprise of the day was a poor performance of Hungary, which lost to India 1¸-2¸ (Kunte-Almasi 1-0; other games drawn). OK, India is not a bad team, but in the match Hungary was a clear favourite. England beat Yugoslavia 2¸-1¸, even though Nigel Short lost on board 1 to Damljanovic. So far England and USA do not look too impressively here, while Ukraine is getting closer to the leaders. Today Ponomariov beat Milov - as I predicted, this guy is the one to watch out for!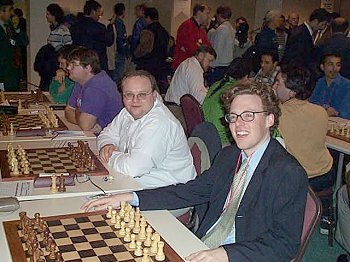 Today Irish men's team beat Wales 3-1, so we are on +2 now. That was a reasonable score, as our players had higher ratings on every board. Our women's team lost 1-2 to Morocco, so now they are pretty much on the bottom of the list... :-(
At left: The Irish in Turkey: IM Mark Quinn, IM Mark Heidenfeld, Colm Daly and Sam Collins
I did not play today, so in the afternoon I went to see the old city. It is very busy, with lots of people selling and buying stuff in the streets. I went to the Sophia Cathedral, which is beautiful inside - you can actually feel the history there! The weather is very nice here at the moment - sunny and quite warm (about +20 in the afternoon, I guess). This is in such a sharp contrast with the weather back in Dublin, that I am particularly glad that the Olympiad is in October-November - I am missing all the rain! :-)
As I found out today, resting is actually more tiring than playing - first I walked a lot and then saw much more chess positions than I would normally do. So, I'll keep this report short - more tomorrow!