Daily report by GM Alexander Baburin from Turkey
Irish Olympiad page done by Michael Dooley.
While in Istanbul GM Baburin began publishing Chess Today, a daily chess newspaper. Check it out!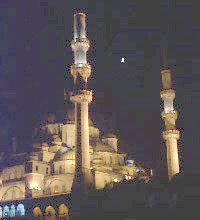 Day One, 28th October 2000. Today the 34th Chess Olympiad started. So far the event is very well run. I would compare it very favourably with Moscow-94 and Yerevan-96 in terms of organisation, judging by the first two days. When I arrived to Istanbul airport around midnight last night, I quickly saw people meeting chess players. The transfer to my hotel was swift and the hotel itself made a good impression on me. It's called 'Green Park' (where else would you expect the Irish teams to stay? It must be something green!) and it seems like a genuine 3-star hotel. OK, they claim 4 stars, but... Our team stays in the same hotel with the Dutch, Armenian and some other delegations. There are a few other hotels nearby, where other teams stay. This is great as you can easily meet with your friends. After all, Chess Olympiads are great festivals and the social element plays a great role at them, particularly for those teams, which are not fighting for medals. OK, after the first round, when we beat Panama 4-0, the Irish men's team is still fighting for medals though! :-) In round Two (on Sunday) we play against Cuba. The Irish men's team consists of: GM Alexander Baburin, IM Mark Quinn, IM Mark Heidenfeld, FM Colm Daly, IM Mark Orr and Sam Collins. Our women's team is: 1. Susan Connolly 2 Mairead O'Siochru 3 Deborah Quinn 4 Elizabeth Shaughnessy.
The playing venue is just 15 minutes walk from our hotel. Itās a big exhibition centre and seems to suit the Olympiad just fine. All teams (men and women) play in the same hall, which makes it easy to follow the matches. I am just afraid the hall will quickly get stuffy, but this is hard to avoid with a few thousand people gathering together. By the way, this Olympiad has a record number of entries - 129 countries are playing in men's competition. This is really great!
The opening ceremony was good and not too long. The first round started about 40 mites late, but this is understandable for such a huge event. The rate of play is 1 hour 40 minutes for 40 moves, with a 30-seconds increment per move. Then it's 50 minutes per 20 moves with increment, etc. All games are played on special electronic boards, so all of them are shown live on the Net! Alas, these sensitive electronic boards are still easy to confuse and they often show impossible move.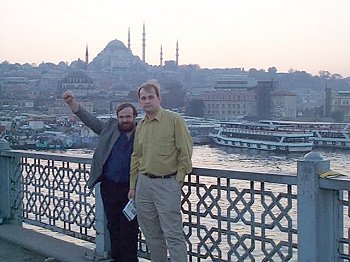 I did not play in round one, so after hanging around for a while and saying 'Hello!' to lots of people, I went to the city with my old friend Lev Psakhis. Istanbul looks like a very dynamic city, with a typical eastern charm. I hope to see more of it during 2 free days, which we will have here. They certainly have some impressive mosques here! People here look very friendly.
At left: GM Psakhis and GM Baburin
(Photo by GM Baburin)
Russia is the top seed in men's event. Even without Kasparov, Kramnik (or should we put their names in a different order now?!), Bareev and Karpov, it is still a great team: Khalifman, Morozevich, Svidler, Rublevsky, Sakaev and Grischuk. Watch out for Grischuk - this 17-year old player is capable of delivering great results! England looks very good too - with Adams, Short, Hodgson, Speelman, Miles and Emms. Then we have Israel (Gelfand, Smirin et al), Ukraine (Ivanchuk, Ponomariov et al) and Hungary (Leko, Judith Polgar, Almasi et al). The US team is seeded 7th, but Americans are always very good at team events, so no doubt they will be fighting for medals.
There were already a few surprises today. The biggest is that USA dropped 1.5 points to Turkey (Nick de Firmian lost). England and Netherlands dropped half of point each and there are probably some other top teams, which did not manage to score 100% in the first round. I would expect more surprises today, so stay tuned!
(Photo courtesy Mark Orr.)